The Noctua NT-H1 is an award-winning, pro-grade thermal interface material (TIM) solution ideal for overclockers and DIY professionals. Consisting of a hybrid compound of different micro-particles, this thermal paste features minimum heat resistance, and is electrically insulating thus it wouldn't cause short circuit damage or malfunctioning in case of bleeding. It also delivers exceptional long-term stability for lasting, hassle-free performance in a couple of years. Plus, the syringe container makes the thermal grease easy to apply - simply push and put a drop of paste on the bare die of chipsets or the integrated Heat Spreader (IHS) of CPU, install the cooler and it's ready.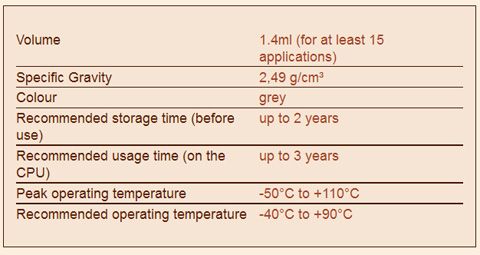 Excellent Performance

NT-H1 consists of a hybrid compound of different micro-particles, which has been specifically optimized for use in PC environments. Thanks to its extremely low thermal resistance as well as excellent pliability and spreadability, NT-H1 achieves outstanding results.
Maximum Ease of Use & Efficient Dosage

As NT-H1 spreads very well under pressure, there's no need to smear it over the heat-spreader. This reduces both the consumption of paste and the time spent on the installation process: Put one drop of NT-H1 onto the center of your CPU, install the cooler and that's it!
Top-Performance Right from the Start
NT-H1 reaches its full performance extremely fast and doesn't require a longer "burn-in" time.
Excellent Long-Term Stability

NT-H1 doesn't contain any solvents or other substances with low flash point and provides excellent long-term stability. Due to the compound's exceptional curing, bleeding, dry-out und thermal cycling characteristics, NT-H1 can be used for several years without any problems.
Not electrically Conductive, Non-Corroding

NT-H1 possesses a very low dielectric constant and a high dielectric strength. Therefore, there's no danger of short-circuits even in case of direct contact with components or conducting paths. Fully compatible with all materials commonly employed in PC environments, NT-H1 is suited for use with aluminum and copper coolers.
Suitable for Compressor Cooling

NT-H1 is perfectly suited for use with compressor coolers. Even at the very lowest temperatures, the paste delivers full performance and remains easy to clean off.