A great foundation for your new powerhouse, the Corsair Carbide Series 100R computer case delivers all the features you need at the price you want. Its clean, modern exterior design with side panel window will make an impression at the first sight. And in the modern-looking, full black interior, you'll find ample room, and ergonomic, convenience design to simplify your building process, like tool-free 3.5" and 5.25" drive installation, cable routing channels and holes, and bottom-mount PSU design. Adequate number of fan mounts with one pre-install fan enables amazing cooling potential. Dual USB 3.0 ports on front panel make it easy to use your external HDD, HD webcam and other high speed peripherals.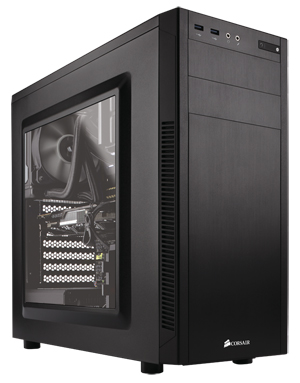 Simple, Elegant, and Sharp
It's the performance PC platform in stealth mode. With a mesh-free front panel, flush-mounted side panel window and clean lines, the 100R is both professional enough for the office and customizable enough for any home PC build.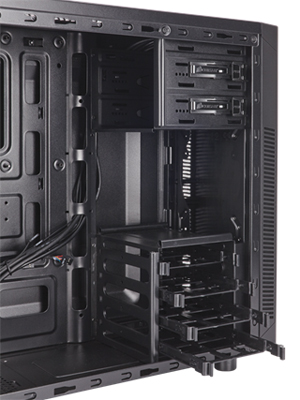 Storage, Simplified
The simplicity begins with tool-free 3.5" and 5.25" drive installation, and all four hard drive trays provide solid-state drive support so you can mix and match to fit your needs. On the outside, dual USB 3.0 front panel ports give you quick and easy access to the latest high-speed portable hard drives and flash drives.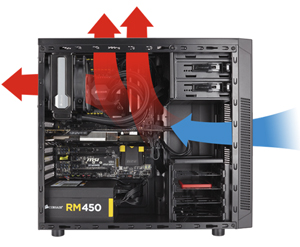 Creative Cooling
Five internal fan mounts let you customize your cooling to match your build. We'll get you started with one included 120mm fan. The case is designed to draw airflow directly to the GPU to help ensure that you and your graphics card will both keep your cool during intense gaming sessions.
The Features That Builders Want
Whether you're building one system or a dozen, you want the attention to detail that makes it easy. You'll appreciate things like cable routing channels for easy cable organization and better-looking builds, and the side panels are attached with thumbscrews so you can get in and out without hunting for a screwdriver.